About Us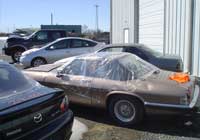 ROI Protective Tapes provides the Automotive Salvage Auction, Collision, Marine, and Building industries with plastic tape and wrap products specifically designed to protect your valuable assets. Our products contain UV Inhibitors which allow protection from the damaging effect of the sun when outdoor storage is required. This increases your "Return On Investment". Our adhesives remove cleanly, so no removal of dried adhesive is necessary after use.
ROI Protective Tapes is an associate member of ASPA, the American Salvage Pool Association. Our goal is to provide ASPA members with the protective products they need to get the highest return on their vehicles sold at auction. We are committed to supporting ASPA members by maintaining the lowest available cost in the industry on protective tapes and wraps while offering the highest quality products.
ROI protective Tapes is headquartered in Northampton, PA. We ship via UPS nationwide, and orders will usually ship the same day as placed. We fully guarantee our products. Our prices are also guaranteed to be the lowest. We will not be undersold.
Our motto is "Maximize your Return On Investment". We have built a solid reputation for quality and service. Give us a call or email us with any questions.
If you have any questions please contact Tom at 610-564-7135 Monday through Friday 8:00am to 5:00pm and we will be happy to assist you.
You may also e-mail: tom@roiprotectivetape.com. 
---
---
---